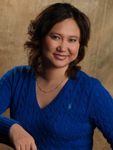 Dr. Wenrong(Wendy) Xu is a therapeutic optometrist and optometric glaucoma specialist. She is specifically trained and certified to use FDA approved Paragon CRT lenses. As a primary eye care physician, she performs comprehensive dilated eye exams for the diagnosis and treatment of ocular disease. She specializes in fitting contact lenses and providing eye care for the entire family. Dr. Xu's interests include adult and pediatric routine vision exams, contact lens fitting including Ortho-K (CRT), general medical eye care (red eyes, dry eyes, diabetic retinopathy, macular degeneration, and glaucoma etc), and co-management of LASIK and cataract surgery.
Dr. Xu graduated Magna Cum Laude from University of North Texas with a Master of Science degree in 1999. She then attended the University of Houston College of Optometry, where she received her Doctorate of Optometry. She completed specialized training in the treatment and management of glaucoma, macular degeneration, diabetic retinopathy, LASIK, and preoperative and postoperative care for cataract surgery. Also she received specialized training in pediatrics, contact lens, and low vision.
Dr. Xu is an active member of the American Optometric Association, Texas Optometric Association, and Dallas County Optometric Society. She and her husband, Chen, have a beautiful daughter, Alice. During the leisure time, Dr. Xu enjoys traveling, outdoor activities, and spending time with her family.